Sola cube / Concept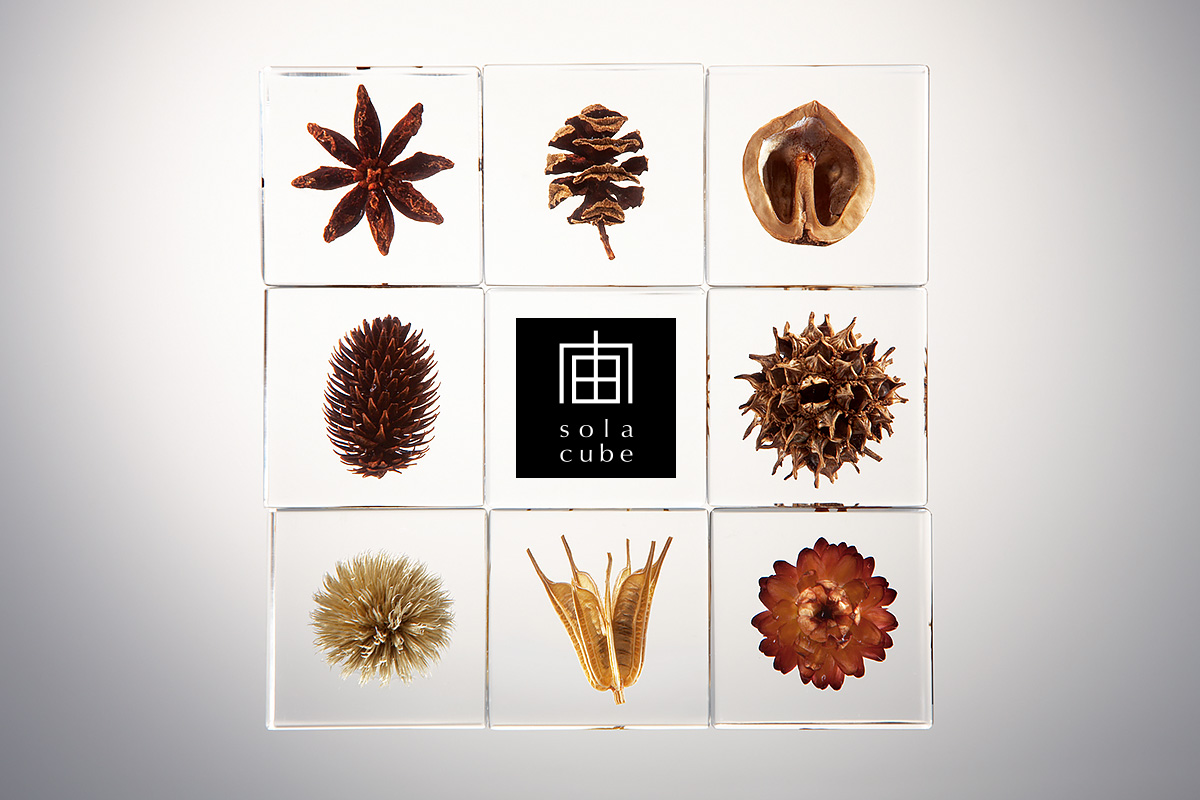 - Concept -

The Beauty of Plants

3.8 billion years have passed since the one single life began on Earth. Later, these lives evolved into flowers, fruit and seeds. These lives maintained the life cycles for millions upon millions of generations.

The colors and materials each have their own unique purposes. These intriguing shapes have form unpretentiously with each functional purpose by the hand of Mother Nature.

We offer beautifully preserved plants, exquisitely in the form of a 1.6 x 1.6in acrylic cube. Sola cubes can be arrange and combine in multiple patterns to inspire sensitivity and learning. Arrange your Sola cubes, observe them intently, and appreciate the wonder or botanical lives.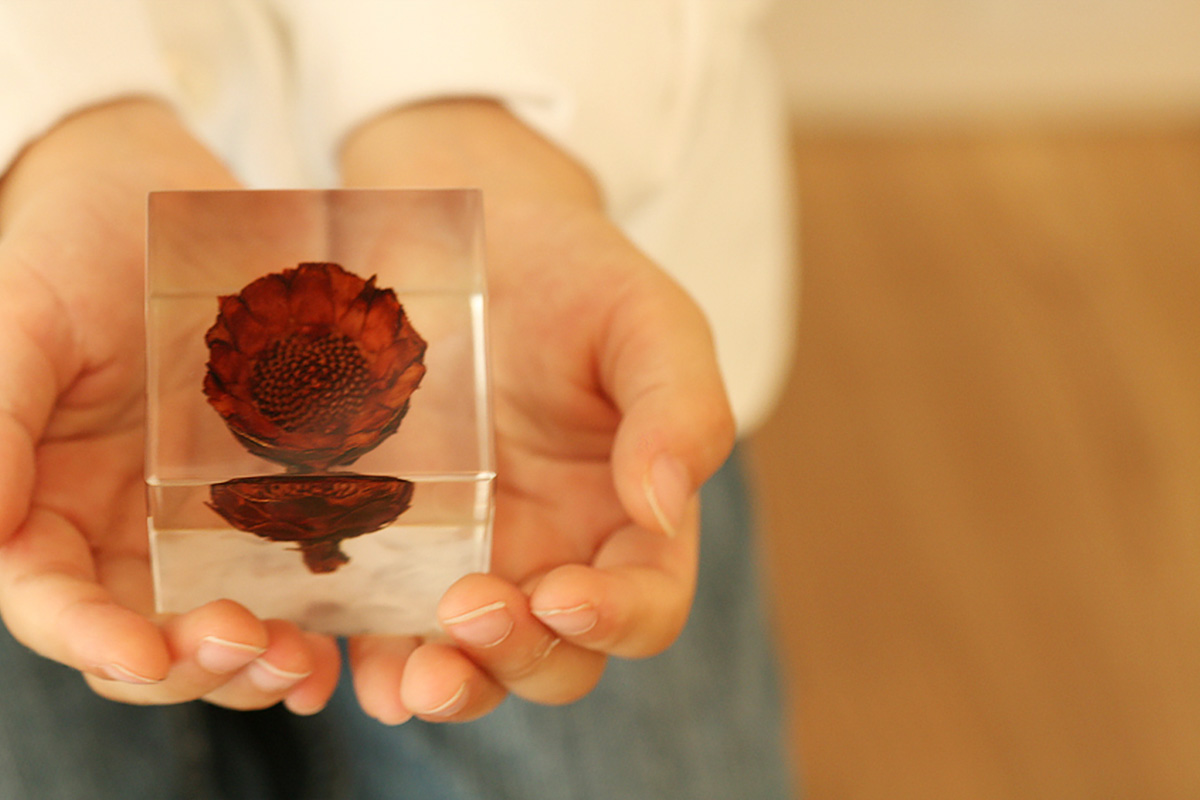 - Naming -

A Small Universe

By observing a small plant carefully, we are able to glimpse a more perfect world.
We express the name "Sola" with the Chinese kanji 宙, which means "universe."
This kanji explains everything we know and don't know, including time and space, with a single character.
Sola also has another meaning: "blue sky." An imaginary world spreads out like the sky before us.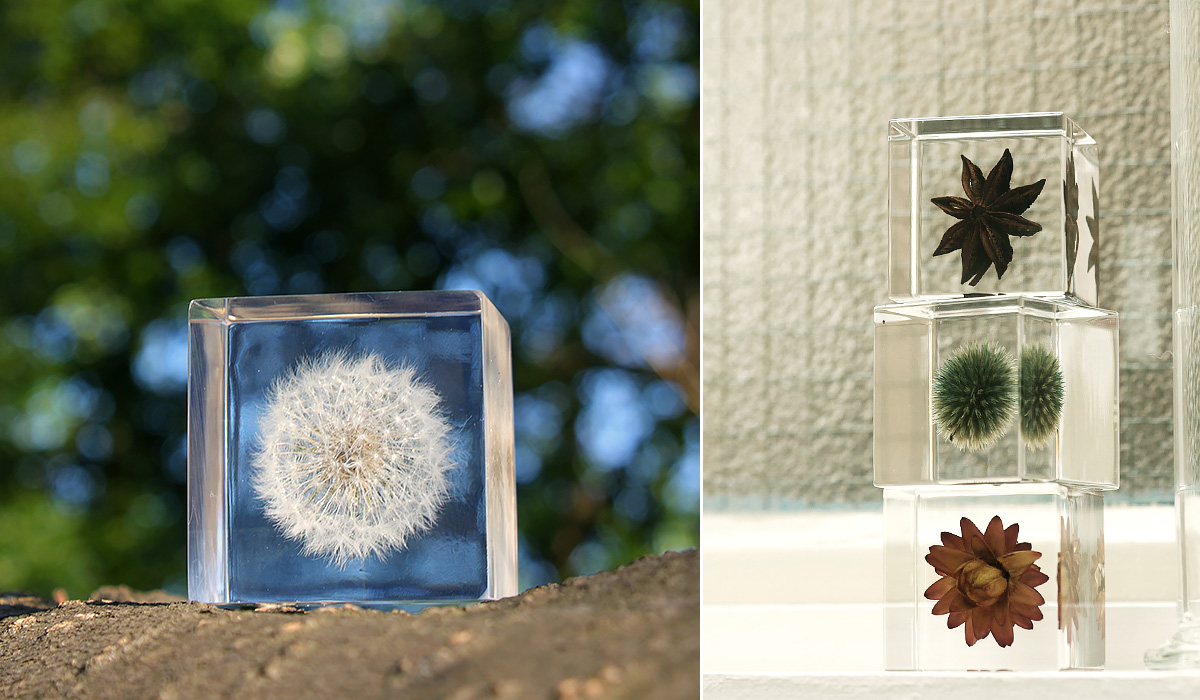 - Craftsmanship -

Experienced craftsmanship

Every Sola cube is carefully handmade by an experienced Japanese craftsman, and each one takes considerable time and effort to complete. Outstanding craftsmanship is required to ensure that this small transparent cube, which measures only 4cm, holds a plant at its very center and that no air bubbles get inside.
---
Manufacturing process
STEP1 Foundation creation
In the first step of manufacturing, liquid acrylic is poured into a mold which is 5-6cm square, slightly larger than the Sola cube. The dried plant is carefully inserted when the liquid hardens to a gel.
STEP2 Defoaming
Additional liquid acrylic is then poured into the mold.
Then remove air to avoid bubbles.
STEP3 Heat treatment
The product then undergoes a heat treatment.
This stabilizes the binding of the acrylic, and ensures the cube is durable and long lasting.
STEP4 Processing
The cube is cut to precisely 4cm on each side, then planed.
The corners are rounded and smoothed at the end of this step.
STEP5 Polishing
The surface of the cube is polished until it is shiny, and a clean, glossy finish is achieved.
* The manufacturing process and resin used in polishing is adjusted, depending on the variety of plant to be set inside the cube.
*Lately we are finding products on the market which are similar to Sola cube.Please be careful of imitation products on the market.